17 Engines 178 Manufacturers.

Hot Bulb and Crude Oil Engines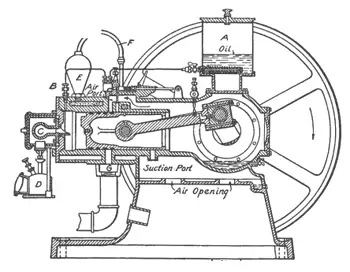 Show your own hot bulb and crude oil engines to the curious public and all the stationary engine enthusiasts. A new and fun way to preserve these old cultural treasures. Add your engine too, it's free, and no strings attached!
Add your own engine here
Even if the site name is Hot Bulb Engines, you can add Hit & Miss Engines, Kerosene Engines and Semi Diesel etc, both two and four stroke engines. It's totally free and no strings attached.
Featured engines
Featured engines from our members. More photos of engines in our photo gallery.
Old Vintage Stationary Engines
Here you will hopefully be able to find others with the same engines as your own, and make new acquaintances. Besides, it's fun to read about these old and beautiful vintage engines. It is of course 100% free, and our policy is full integrity.
Latest engines added
Showing the 15 latest engines, use load more to view more engines.
| | | | | | | | |
| --- | --- | --- | --- | --- | --- | --- | --- |
| Engine | Horsepower | Year | Type | Location | Photo | Notes | Video |
| Mietz & Weiss | 1 hp | 1903 | Stationary | Sweden | | | - |
| Krimo | 37 hp | 1935 | Transportable | Sweden | | | |
| Blackstone | 8 hp | 1908 | Transportable | Austria | - | - | - |
| Lister | 3 hp | 1926 | Stationary | United Kingdom | | | - |
| Bamford | 4 hp | 1940 | Stationary | United Kingdom | | | - |
| Lister | 6 hp | 1915 | Stationary | United Kingdom | | | - |
| Alpha | 100 hp | 1953 | Boat | Sweden | | | |
| June-Munktell | 80 hp | 1934 | Boat | Netherlands | | | - |
| Målilla BRB | 35 hp | 1938 | Stationary | Sweden | | | - |
| Champion | 16 hp | 1929 | Stationary | Sweden | | | |
| Beijers | 25 hp | 1939 | Transportable | Sweden | | | |
| Blackstone | 7 hp | 1918 | Transportable | Netherlands | | - | - |
| Ruston Proctor | 7 hp | 1911 | Transportable | Netherlands | | - | - |
| Storebro | 25 hp | 1921 | Stationary | Netherlands | | | |
| Sandbäcken | 8 hp | 1925 | Transportable | Sweden | | | |
| Målilla BR | 25 hp | 1935 | Transportable | Sweden | | | |
| Beijers | 13 hp | 1926 | Transportable | Sweden | | | - |
Videos of Hot Bulb and Crude Oil Engines
On our YouTube channel we share fun and interesting videos on engines of all types. You can find us at youtube.com/HotBulbEngines. Like and join the discussions today.
Featured Videos
Videos of engines added by our members. More videos in our video gallery.
What is a Hot Bulb Engine?
A short description
A hot bulb engine is a internal combustion engine. The main advantages of the hot bulb and crude oil engine, which made it so popular right from the start of the century until the 50s, was the simple and very reliable construction. Many engines were actually in operation into the 70s, as a power source for e.g. boats and sawmills. The engine's design also makes it insensitive to the type of fuel, which in difficult times made it advantageous compared to other designs, when it became easier to find fuel. In addition, the engine type has a very low fuel consumption. The engines' often low revs in combination with large engine volume, give the engines their popular and characteristic sound.
Areas of use
The engines were available as a transportable power source on trolleys, and were then often used for threshers, stone crushers, wood cutters, roof chippers and straw presses and more. The hot bulb engine was also very common in boats, and as an engine in many different tractor manufacturers. In addition, it was also common as a stationary power source in e.g. sawmill.
A hot bulb as ignition
It's part of the engine's ignition device that gave the engine it's name, the bulb itself. On the inside of the bulb, there is a thin rim or lip. This smaller thinner part is easier to keep glowing and stay hot. The engine works completely without electric ignition and spark plugs. Instead, the fuel is ignited when a shower of fuel hits this thin lip in a pre-chamber, above the cylinder and piston. This happens at the compression stage in the engine, and the high pressure that occurs (compression) together with oxygen, which also is an important part of being able to ignite the fuel. The pre-chamber has a smaller passage into the cylinder, and the narrower passage gives rise to high speed of the oxygen into the pre-chamber, where the fuel hits the bulb. This ensures that the oxygen and fuel are properly mixed.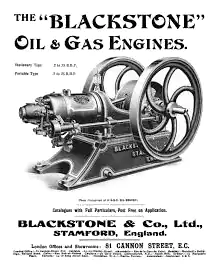 To start a Crude Oil Engine
To get the bulb hot enough to ignite the fuel and start, the bulb must first be preheated. This is done with a so-called blow lamp, or blow torch, which vaporizes kerosene into gas with heat. Common manufacturers of these were Primus and Sievert. It usually takes about 10 to 15 minutes heating before trying to start. Today, many people use LPG instead, as it is much more efficient. After the engine has been started and has run for a few minutes, the combustion in the engine will be able to keep the bulb hot without help from the blow lamp, and you can then turn off the blow lamp. The engine does not have a starter, but smaller engines can usually be started by turning the engine with the flywheel back and forth, until it ignites and starts. Larger engines are started using compressed air, as they are too large and heavy to start this way.
The Fuel (Crude Oil, Diesel, Kerosene, Fish Oil etc.)
As previously mentioned, the engine is insensitive to the choice of fuel. It can run on diesel, crude oil, sunflower oil, wood tar, kerosene and more. Fatty oils are very high in energy, and this is what allows the engine to achieve a high output, on a relatively small amount of fuel.
A reliable construction
The engines are very simple in their construction as they are of the two-stroke type (four stroke also existed). This means that engine parts such as e.g. valves, camshafts, transmission gears and push rods isn't needed. In order to get strong, powerful engines with many horsepower, the manufacturers made large cylinders and pistons, which gave a larger cylinder volume. This also gives the advantage that you get large sliding surfaces, which means that it takes longer for the engine to wear down. Many boats had two (and sometimes more) cylinders, otherwise it was most common to have only one cylinder. Instead of making the engines multi-cylinder, they made the engine bigger (larger stroke volume), when they wanted to achieve more horsepower.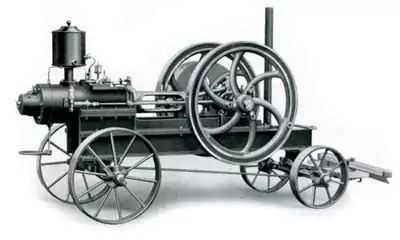 The Engine History
The Hot Bulb engine was invented by the Englishman Herbert Akroyd Stuart at the end of the 1800s, and he received the patent in 1890. He is said to have gotten the idea when he accidentally spilled kerosene into a bowl of tinned tin, which then vaporized from the heat, and then caught fire on a candle. The fuel was therefore initially kerosene. His first engines was manufactured with the help of the company "Hornsby & Sons" in Grantham, England - and the first engines was ready as of July 8, 1892. The engine was later further developed by August Mietz and Carl W. Weiss, through their company "Mietz and Weiss Engine Co". Their design later became the model for the hot bulb engines that were manufactured all around the world, at the beginning of the 20th century.
Manufacturers from England
Some of the more popular manufaturers in England (United Kingdom UK) was Crossley Brothers Ltd. in Manchester, England, Ruston and Hornsby Ltd. (R&H) in Lincoln, England, R. A. Lister and Company in Dursley, England and Blackstone Co. in Stamford, England.
Manufacturers from U.S.A.
Some of the more known manufaturers in the United States was Mietz & Weiss Engine Co. in New York, USA and Fairbanks Morse And Co. in Beloit, USA.
Manufacturers from Australia
Some of the more famouse manufaturers from Australia are Ronaldson Bros. & Tippett in Ballarat, Australia, Clutterbuck Brothers in Gawler, Australia and Southern Cross Engines & Machinery in Toowoomba, Australia.
Manufacturers from Sweden
Some of the biggest manufaturers in Sweden was KRIMO (Kristdala Motorfabrik) in Kristdala, Sweden, Storebro Bruk AB in Storebro, Sweden, Målilla Mekanisk Verkstad (MMV) in Målilla, Sweden Beijers Motorfabrik in Vimmerby, Sweden, Torps Bruk AB in Moheda, Sweden, Bolinders Mekaniska Verkstads AB in Stockholm, Sweden, Munktells Mekaniska Verkstads AB in Eskilstuna, Sweden, Skandiaverken (Lysekils Mekaniska Verkstad) in Lysekil, Sweden.
Help us keep the data up to date
| | |
| --- | --- |
| | Help us to keep the information and data up to date. Please contact us if you have any interesting information about the the manufacturers or engines in the database. |